Review the information below for a brief description of what you might expect during a dental implant procedure to replace a single missing tooth. Of course, Dr. Hadgis and his team are available to you to discuss any questions or worries you might have about the procedure, or to provide you with more detailed information specific to your individual case.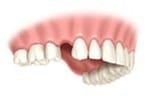 1. Dental implants are the best choice when the surrounding teeth are strong and healthy, as pictured in the graphic at left. Dr. Hadgis will perform a thorough exam, including digital tomography, which provides a much more thorough picture of the area than traditional x-rays, and emits far less radiation.
2. When Dr. Hadgis has determined that you are a good candidate for a dental implant, he will surgically place the custom-made titanium root form. Unless the surgery is unusually complex, Dr. Hadgis does the surgery himself. The advantage to you in this arrangement is that when the surgeon placing the root form and the dentist placing the dental crown are the same doctor, there is no chance for miscommunication about the root form placement that will affect the placement of the crown. Depending on your situation, it could take several weeks for the root form site to heal before Dr. Hadgis can place your crown.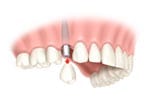 3. Dr. Hadgis will design a dental crown for you that will be indistinguishable from your natural teeth. Using the skills he has acquired as a cosmetic dentist certified by the American Academy of Cosmetic Dentistry, Dr. Hadgis will make sure your dental crown has the perfect shape, color and translucency for its position in your mouth.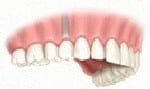 4. When the surgical site for the root form has healed sufficiently, Dr. Hadgis places the dental crown. Because Dr. Hadgis uses digital tomography to determine extremely precise placement of the root form, your healing time is less than it would be with a dentist who does not have access to such sophisticated equipment.
With proper care, your dental implant will last a lifetime, and should be indistinguishable from your natural teeth.
Dr. Hadgis has been replacing lost teeth with implants for many years, and he has continued to evolve and learn as the related technology has changed and improved. Talk to him about your options, and he will give you honest, straight-forward information.