Our fees are based on the quality of the materials we use and our experience in performing your needed treatment.
We know that dental care can be expensive, and will do everything we can to help make your treatment more affordable. We are careful to discuss the cost of your care before you receive your treatment, as full payment is due at the time of your service. If you have dental insurance coverage, we will submit the insurance forms for you, then the reimbursement check will go directly to you. We accept major credit cards such as Visa and MasterCard.
If you would like to review these financial arrangement options with one of our team members in advance of treatment, please call (313) 885-9454.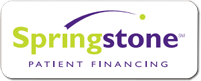 Our practice is pleased to offer Springstone Patient FinancingSM. A variety of flexible plans provides low monthly payments with no money down and no payment for 3-7 weeks. You can calculate monthly payment options or you can place an application.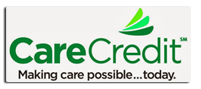 CareCredit is another payment option we offer. Click here to see if you qualify within seconds.