Your missing tooth does not have to be a permanent problem.
You've lost a tooth! What now? Talk with Dr. Hadgis before you make any hasty decisions. He has been replacing missing teeth with dental implants for 30 years. Whether you are missing one tooth or many teeth, dental implants help you regain much of the natural feel and function of your natural teeth. If you are considering dentures, one option is to get overdentures that are held in place with dental implants. Some of Dr. Hadgis' patients have had overdentures with dental implants for more than 20 years!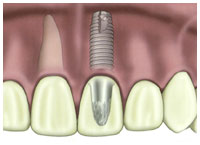 What are Dental Implants?
Dental implants consist of a root form and a crown. The root form is surgically inserted into the jaw bone at the site of the missing tooth, and then the crown is permanently affixed to it.
This short explanation and diagram may make it sound as if this is a simple procedure, but there are many considerations in play here. (Click here for a more detailed explanation of the dental implant procedure.)
The jaw bone at the site of the lost tooth must be substantial and healthy enough to support the root form. If you lost the tooth some time ago, you may first have to have a bone graft at the site of the lost tooth. When you lose a tooth, your body reabsorbs the bone at that location. If you have lost most or all of your teeth, the re-absorption of your jaw bones can be so severe you can suffer facial collapse.
A dental implant halts that process of re-absorption, and so is an excellent choice to replace a lost tooth or teeth. In many cases, Dr. Hadgis performs the root form implant surgery himself. He also does bone grafts, which is a procedure using bone products or bone from your own hip to build up your jaw when the bone at the implant site is not robust enough to support the implant root form. This is a real advantage, as coordinating services between the dentist and the surgeon is a lot easier when your dentist IS the surgeon.
Staying with the Times
The field of dental implant dentistry has evolved tremendously over the last 30 years, and Dr. Hadgis has evolved with it. His specialized training in cosmetic dentistry means that your dental implant will look and feel just like your natural tooth, and his office uses sophisticated technology called "digital tomography", which allows Dr. Hadgis to place your dental implant with exceptional precision. Digital tomography produces detailed, 3-dimensional images that give Dr. Hadgis information not just about your jaw bones and teeth but about the nerves and soft tissue of your mouth and face, too, and exposes you to dramatically less radiation than traditional x-rays.
Over the course of his career, Dr. Hadgis has completed thousands of hours of post-graduate study, much of it at the prestigious Las Vegas Institute for Advanced Dental Studies. Dr Hadgis' investment in his education and the latest technology demonstrates his commitment to your whole-body health.
Considering All the Options
There are circumstances where a dental implant is NOT the best solution to the problem of a missing tooth. Dr. Hadgis will consider many factors when offering his opinions and advise, including your budget. Sometimes, if the surrounding teeth need crowns, and you are only missing a single tooth, a dental bridge can be a perfectly acceptable and beautiful way to replace a missing tooth. Dr. Hadgis will give you honest, educated advice when you are trying to decide on a dental implant vs. dental bridge.