Does your head hurt?
Are you tired of losing time to pain? One in every ten Americans struggles with headache pain that is resistant to medication, and most never imagine that their ongoing pain could be caused by a TMJ disorder. If you have headaches, talk to Dr. Hadgis. His whole body approach to your health may help you overcome your headache pain.
Symptoms of a "TMJ Headache"
A "TMJ headache" is a tension type headache. The pain usually starts in the forehead, temples or back of the head and radiates over the shoulders and neck. Patients with these kinds of headaches use terms like "vise-like", "drawing", "tightness" or "band-like" when describing the pain. If you suffer with these kinds of headaches, it is likely that you also experience sleep difficulties, such as difficulty falling asleep, restlessness, or waking without feeling rested.
Treating Headaches Caused by TMJ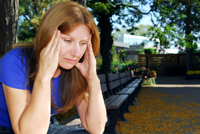 As with treatment of other TMJ symptoms, Dr. Hadgis will always try the least invasive form of treatment first. A thorough exam, including a neuromuscular evaluation, will help him determine the best course of action. Many of the methods used to treat headaches associated with TMJ are identical to the ones used for general TMJ treatment.
There is no reason to continue to suffer needlessly. Talk to Dr. Hadgis today about finding a solution for your headache pain.