Technological advances can be a wonderful thing. Dr. Hadgis uses a laser for several soft tissue procedures that can dramatically reduce your healing time. And few people think about what an impact changing your gums can have on the appearance of your smile.
Think of the gums as synonymous to the frame of a painting. No matter how beautiful your teeth are, misshaped or discolored gums will detract from your smile.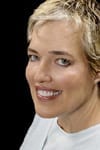 Pictured here is Bev, one of Dr. Hadgis' patients. Click here to read about her smile makeover, which included reshaping her gums with the laser.
Dental lasers can also be used to remove benign oral tumors, or even to reduce pain and healing time of cold sores.
Benefits of Laser Dentistry
Use of a soft tissue laser has several benefits to you, the patient, mainly as concerned with your healing time and the associated pain:
Minimized damage to surrounding tissue and minimized bleeding.
Fewer bacterial infections, as the laser sterilizes the area.
Some procedures may not even require anesthesia, or sutures.
Affected area heals much faster than a traditional surgical wound.
Most people don't base their decision about whether or not to go to a particular dentist based on whether or not he has a soft tissue laser. But all the same, its nice to know Dr. Hadgis has the very latest technology available, to offer you the very latest techniques designed to save you pain and decrease your healing time.