Lumineers are heavily advertised and therefore popularly known, but they may not be the best choice for your smile makeover. In general, it is best to be very careful when choosing your cosmetic dentist, and then trust your cosmetic dentist with choices about what materials will best suit you and your smile makeover.
A word about Lumineers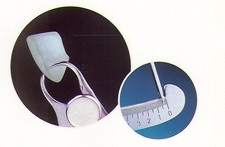 Lumineers are marketed as some of the thinnest and strongest porcelain veneers available. While most porcelain veneers are about .5 mm thick (the width of a fingernail), Lumineers are about .3 mm thick.
Because of their thinness, Lumineers are touted as a "no-prep" solution for porcelain veneers. This means that in theory the teeth do not need to be shaved down prior to placement of Lumineers, and that if you needed to have them removed, your natural teeth would be unaltered. This reasoning, in a way, assumes that there is a good chance you may NOT be happy with your smile makeover! And with the no-prep technique, this unhappy outcome may be more likely—adding even .3mm to your teeth may make them feel bulky and unnatural in your mouth, and may not yield the most beautiful, natural looking smile.
To provide you with the best possible results, Dr. Patel is committed to using only the highest quality materials when designing your smile. As a result, he has opted not to offer Lumineers, but is pleased to offer other, more aesthetic options for ultra-thin porcelain veneers. Visit Grosse Pointe Woods Porcelain Veneers for more information.