Let Dr. Hadgis help you discover your most beautiful smile.
Few cosmetic dentistry treatments are more life-changing and appearance altering than porcelain veneers. Due to the recent surge in popularity of make-over reality TV shows, more people than ever are aware of what porcelain veneers are, and what they can do to change your smile.
Porcelain Veneers—Technical Information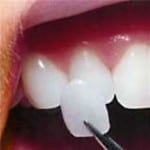 What, exactly, are porcelain veneers? They are thin pieces of porcelain, about the thickness of a fingernail. They are bonded to the front part of your teeth, instantly creating a beautifully straight, bright white smile. Technically, the process of placing porcelain veneers is not that difficult, but making the right choices about the color, translucency, size and placement of your veneers is very much an art form. In the wrong hands, your smile makeover could become a very expensive disaster, and so we strongly urge you to seek the services of an accredited cosmetic dentist like Dr. Hadgis if you are considering this procedure.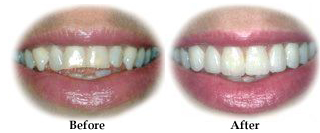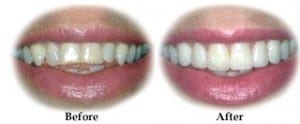 Porcelain resists stains better than your actual tooth enamel, and does a better job recreating tooth structure than any other material used to restore teeth. In most cases, Dr. Hadgis will prepare your teeth for veneers by shaving a small amount of material off the front of your tooth, then bonding the veneer. This type of preparation helps make sure your porcelain veneers are not too bulky, and does not damage your original tooth structure.
The images at right are an example of the beautiful results that can be achieved in the hands of a gifted cosmetic dentist. To see the results of Dr. Hadgis' patients, see the testimonials of his patients in his Smile Gallery.
What do you want your new smile to say?
Dr. Hadgis will work with you to design the most beautiful, natural smile for your unique personality and facial structure. He will consider your coloring and complexion, so the color of your new smile is in harmony with your natural looks. He also takes into consideration your age, gender and personality, so your new smile is a true and accurate reflection of your inner beauty. Dr. Hadgis believes that the beauty of your smile is intrinsically linked to the health of your teeth, and of your whole body. He will consider emotional as well as physical factors when helping you find the perfect design for your true smile.
Beautiful Smile Guarantee
As with all of his cosmetic procedures, Dr. Hadgis offers you the assurance that he will work until you love the result.
A Word About Lumineers
Lumineers are a brand of porcelain veneers that advertised aggressively as being a "no-prep" solution. Lumineers are extremely thin yet very strong, and could in theory be placed without any preparation of the underlying teeth. A word of caution, though: Sometimes this "no-prep" technique can make Lumineers seem bulky, or encourages untrained dentists to assume they are easy to place. Lumineers are actually MORE difficult to place because of the no-prep technique. Dr. Hadgis is currently seeking certification in Lumineers placement, and will therefore be qualified to get you a successful result using Lumineers. Click here for more information on Lumineers.