Eighty-seven million Americans snore. If you are one of those eighty-seven million people—or you are married to one of them—you know that snoring is no laughing matter. Dr. Hadgis and his team are committed to bringing you whole body health, and that certainly includes the serenity and balance that come with a full night's sleep.
Snoring Treatment Options
The first phase of your snoring treatment should be with a sleep specialist, so an underlying sleep disorder can be identified or ruled out. Nearly half of the people who snore have obstructive sleep apnea, or OSA. If you do not have a sleep disorder, or if you have mild sleep apnea, Dr. Hadgis will custom design an oral appliance for you that will help you finally get a good night's sleep.
Causes of Snoring
If your airway becomes partially blocked when you are sleeping, you will start to snore. As the size of the breathing passageway decreases, your throat begins to vibrate and viola, snoring.
Snoring can be a temporary issue, due to sinus congestion, weight gain (including pregnancy), or an inflammation of the throat passages. In some cases, simple methods like sleep position changes or adhesive nasal strips to open the nasal passageways and help prevent mouth breathing can help, especially for an intermittent snorer.
Treatment for Snoring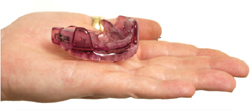 If your snoring is not related to sleep apnea (or the sleep apnea is mild), a custom-made oral appliance may be the solution. This oral appliance (also called a mandibular advancement appliance) works to keep your airways open as you sleep, preventing the vibration that results in snoring. Dr. Hadgis has had tremendous success with this approach.
This appliance is also used to treat mild sleep apnea (without snoring) and is used when a person with a moderate to severe case of sleep apnea can not tolerate a CPAP.
Think of the energy and renewed zest for life you could gain from night after night of restful sleep. Call Dr. Hadgis today to see if he can help you get back to sleep.