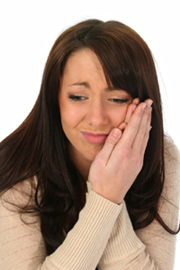 You may not even realize how much pain you endure on a daily basis until Dr. Hadgis helps you find a way to alleviate it.
The exact cause of TMJ disorders is not known, and is probably the result of a combination of factors that could include stress, improper bite, arthritis or injury. Dr. Hadgis treats each person who seeks his help with TMJ pain or problems as absolutely unique, because each and every person presents with a unique set of problems related to this disorder.
What is a TMJ Dentist?
There is no official "TMJ dentist" designation in dentistry. Dr. Hadgis is licensed as a general dentist, but he has a special interest in TMJ treatment. With his specialized training through the Las Vegas Institute, Dr. Hadgis can offer many different ways to treat and alleviate your TMJ pain.
Diagnostic Process for TMJ Disorders
Before recommending any kind of treatment, Dr. Hadgis will perform a thorough assessment of your individual case, which will include a health history, x-rays, clinical exam and neuromuscular diagnostic tests to determine the status of your bite alignment and how your facial muscles and joints are functioning in relationship to each other.
Dr. Hadgis will also ask questions to determine if you may have a sleep disorder such as sleep apnea, or bruxism, which is the clinical term for clenching or grinding your teeth, and can result in a cascade of symptoms. When he has gathered all information necessary to gain a full picture, Dr. Hadgis can then determine an individualized course of treatment.
Possibilities Treatments from a TMJ Dentist
Dr. Hadgis will always begin with the least aggressive form of treatment, and progress as necessary. A simple adjustment may address the problem, or multiple steps may be required—your treatment will be uniquely suited to your unique symptomology.
If Dr. Hadgis determines that your bite is out of balance, he will likely start with that issue, using his specialized neuromuscular dentistry training and equipment to correct the problem. Other types of treatment could include:
Non-aspirin pain relievers or medications such as analgesics, anti-inflamatory drugs, or muscle relaxants;
Physical therapy, including relaxation techniques to control muscle tension;
Stress management training, and posture relaxation techniques;
An oral appliance (occlusal splint) to address any grinding or clenching issues;
Orthodontics to assist in the realignment of an out-of-balance bite;
Oral reconstruction with crowns, to re-build your bite;
Surgery, as a last resort.
If you are suffering from TMJ pain, don't wait. TMJ problems get worse over time, and the longer you delay, the more issues will need to be addressed. Call Dr. Hadgis today to begin your journey towards a more pain-free life.