Our office has the latest Zoom Whitening technology (Zoom2). In just a few hours, your smile can go from dull to dazzling.
The first order of business when considering Zoom whitening is to find out from a professional you trust whether or not you will benefit from a whitening procedure. If your teeth have embedded stains, such as from coffee or smoking, then Zoom whitening may work very well for you. If your teeth have structural stains, such as from childhood use of the antibiotic tetracycline, bleaching will not help you, and may, in fact, make the tetracycline stains even more pronounced. In such cases, porcelain veneers may be the only way to get a really bright, white smile.
Dr. Hadgis will give you honest, straight-forward advice on which cosmetic procedures will give you the bright, white smile you've always dreamed of.
Choosing Zoom Whitening or an At-Home System
No one will dispute that at-home whitening systems are cheaper than Zoom whitening, but you must also consider the value of your time. For most busy professionals these days, every minute has to count, and spending days or even weeks with an at-home whitening system just doesn't make sense. Also, your results depend upon you following the proper procedure, accurately and faithfully, and hectic schedules often make consistent applications a challenge. Zoom whitening is a great choice for you if you have more money than time.
A Unique Approach for Sensitive Teeth
If you have tried laser whitening sessions before and have experienced problems with sensitive teeth, Dr. Hadgis can help you. He routinely administers fluoride before your treatment, to temporarily desensitize your teeth.
Basic Zoom Whitening Procedure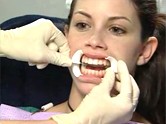 When you are seated comfortably for your Zoom whitening appointment, we first place retractors in your mouth. This serves to keep your lips from touching your teeth or coming into contact with the whitening gel during the procedure. Napkins are placed under the retractors to protect your lips from inadvertent contact with the whitening gel.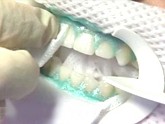 Because the whitening gel is irritating to soft tissue, the dental assistant will carefully coat your guns with a rubbery coating. When all soft tissue is carefully protected, the dental assistant will apply the whitening gel. The gel actually penetrates into your teeth during the procedure, and it is the penetration into the teeth that rids your teeth of embedded stains.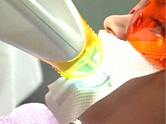 When everything is in place, the Zoom whitening light is focused on your teeth to accelerate the penetration of the peroxide in the gel into your teeth. The peroxide oxidizes the stains embedded in your teeth. During this part of the procedure, you can relax with our music or movie distractions.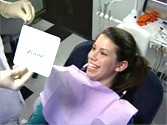 When your appointment is complete, you won't believe the difference! The average result for patients using the Zoom!2 system is teeth eight shades whiter than what they started with. Over the first several days after a Zoom whitening procedure, the extreme whiteness will fade somewhat. Typically, Dr. Hadgis will send you home with an at-home maintenance kit, so you can keep your bright white smile in place.